September 2002
---
Hampson-Russell sold
Veritas has acquired Hampson-Russel—the seismic modeling software house. The move is part of Veritas' new focus on reservoir monitoring and multi component seismics. HR president Brian Russell spoke to Oil IT Journal about the deal.
Veritas has acquired Calgary-based Hampson-Russell (HR) for an undisclosed amount. HR develops software tools and provides consulting services for seismic modeling, interpretation and reservoir management.
Tripodo
Veritas VP Tony Tripodo said, "The latest HR products include interpretation tools for multi-component and 4-D seismic data. These new technologies, along with our existing (RC)2 and SURE software suites, represent leading edge techniques that will enable our customers identify, manage and exploit increasingly complex reservoirs."
Robson
Speaking to analysts at the Q4 2002 and fiscal year webcast, Veritas president Dave Robson explained the rationale behind the acquisition. HR's software is a good fit with Veritas' RC(2) unit's applications and services—"especially in the increasingly important field of multi-component interpretation." Robson went on to describe time-lapse seismics as "flavor of the month—4D does work!"
Russell
Brian Russell told Oil IT Journal, "In 1998, we hired Keith Hirsche, an internationally recognized expert in both time-lapse and multi-component seismology. In 1999, Keith started a time-lapse consortium for HR leading to commercialization as Pro4D."
4C consortium
"As a follow-up to this consortium, HR established a multi-component consortium, 'ProMC', based on the same business model. We are half-way through this development, and are getting good feedback from our sponsors."
Prodigals return
Dan Hampson and Brian Russell actually met while working at Veritas Software, and broke away in 1987 to found HR. The acquisition marks their return to the Veritas fold. HR has close to forty employees located in offices in Calgary, Houston, London, Perth and Jakarta.
Profitable
Russell confided to Oil IT Journal, "HR is a household name with most petroleum geophysicists—even though we never made it onto the radar screen of the financial analysts! As a company, HR has always been very profitable. However, since we were a private company, we never made our financials public. "
---
Core buys ADS
CoreLab has acquired Advanced Data Solutions. ADS' PSDM technology and personnel will integrate Core's Reservoir Technologies Division.
Core Laboratories has acquired Houston-based velocity modeling and depth imaging specialists Advanced Data Solutions (ADS). ADS will integrate Core's new Reservoir Technologies Division (formerly Scott Pickford). ADS was founded in 1988 and has developed software solutions for pre-stack depth migration and Views—a 'comprehensive' velocity modeling packages.
Rebel
ADS also pioneered the use of clusters in seismic processing with its 'Rebel' distributed processing architecture—described as 'commodity-priced supercomputing'. ADS' pre-stack depth migration (PSDM) 'CrossFire' technology won out in a recent turkey-shoot conducted by major oil companies.
Cottam
Chris Cottam, head of Core's Reservoir Technologies Division (formerly Scott Pickford) said, "Core's integrated approach to reservoir characterization, our expertise in core-to-seismic correlation and now, top quality velocity modeling and depth imaging technology place us in a unique position in the industry."
---
Oil-world to end with whimper!
Oil IT Journal editor Neil McNaughton visits some of the 'big issues facing the energy industry in this (virtual) report from the recent World Summit on Sustainable Development in Johannesburg and the World Petroleum Conference in Rio. Forget Malthus and Hubbert—the latest thinking is that there will be a smooth transition from oil to hydrogen and thence to sustainability.
Way back in my own 70's Show—during an MSc course in Applied Geophysics—we hairy, bell-bottomed louts had the pleasure of an address from Nigel Anstey—definitely the greatest geophysicist ever to hail from the Isle of Man. At the time of oil price crises, the role of oil on the geopolitical scene was somewhat different than today. Following the nationalizations and the oil price shocks, there was a general feeling that exploring for and producing oil was a jolly good thing to do. Anstey, who was promoting his colored-in seismic sections showing strange bright spots—which he postulated were direct hydrocarbon indicators—got our attention and esteem by flattery. Anstey suggested that in a few years, geophysicists involved in oil exploration might become the 'darlings of society', thanks to their role in keeping the economy going.
Anstey's Darlings
I guess that for the last thirty years or so I have been waiting to become one of Anstey's Darlings. Like many others in the business, I have always assumed that at some time, the oil supply will reach the 'Hubbert' production peak and the subsequent decline, combined with growing demand would push the oil price through the roof, bringing us all if not 'darling' status, at least untold wealth!
Bludgeoned
While I have been waiting for Hubbert (which mysteriously is always just around the corner—and has been so for around fifty years), the world has changed. Today, working in the oil business is more likely to make you feel guilty about something—whether it is global warming, sustainability or pollution—than to confer 'darling' status. One feels particularly uncomfortable when the big eco-events, world summits on this and that come along. Friends, bludgeoned by green propaganda, begin to ask awkward questions during dinner parties, about oil companies' practices and the sustainability of the oil economy. I usually fend off such improper advances by asking how my interlocutor travels around town—and the conversation then turns to the weather—which in some ways is from frying pan to fire.
Johannesburg
So in case any of you are experiencing similar friendly fire on your evenings out, I bring you the latest thoughts on oil, sustainability and all that, as gleaned from the recent Johannesburg World Summit on Sustainable Development and the World Petroleum Conference in Rio. Bob Priddle, director of the International Energy Agency (an economic think-tank not reputed for radicalism) says, "We are not on a sustainable energy path unless we make considerable changes. A secure supply of energy to underpin essential economic activity and provide services to society is essential if sustainable development is to be achieved."
Take the bus!
The IEA considers access to energy an especially high priority in the sustainable development debate, "In the absence of radical new policies, 1.4 billion people will still have no electricity in 30 years time." For the IEA, sustainable transportation systems are essential, since transport is the fastest-growing use of energy worldwide. Rapidly increasing populations and vehicle usage 'have created gridlock and sprawl, as well as exceptionally high levels of air pollution, noise and accident rates'. For the IEA, the answer lies in new bus transit systems which can 'revolutionize urban travel'. Houstonians take note!
WPC
You may have got the idea that the IEA is into bashing the oil industry—but Priddle re-stated his position in a remarkable joint statement issued by the IEA and OPEC at the WPC. The IEA and OPEC share many views about the future of world energy—that for the foreseeable future, the world will rely predominantly on fossil fuels. Facing up to 'global environmental expectations' is becoming increasingly important. Both the IEA and OPEC are, 'keenly interested in carbon sequestration and its 'safe disposal deep onshore or offshore'. A 'secure and affordable commercial supply of energy' is also indispensable to tackling global poverty. 'Energy helps to supply the basic essentials of life, such as pumped water, and is fundamental to launching small-scale, productive economic activity.' In this context renewable energy is important in relieving energy poverty—particularly in rural communities. The two organizations are to cooperate on a 'Joint Oil Data Exercise'—designed to 'bring greater transparency to oil markets by improving the quality of published data on oil demand, supply and stocks'.
Ran out of rocks?
As reported in the Oil and Gas Journal, another WPC speaker, Shell researcher and hydrogen advocate Michiel Groeneveld noted that fossil fuels have proved far more abundant than previously thought. Groeneveld believes we have enough oil for the next 25-40 years, with gas reserves good for 25-50 years. In the interim, hydrogen and renewables should develop into viable alternatives. Groeneveld foresees a smooth transition to alternative energy sources (hydrogen first, then biomass) and believes the 'oil age' will not end because we run out of oil— any more than the 'stone age' ended because when we ran out of rocks!
Soft landing
So the oil world will end with a whimper, not a bang, a 'soft landing' which has an attractive ring of likelihood to it. Maybe we won't be darlings—or rich! But the world will continue to have bags of energy. How much of it will get to Priddle's 1.4 billion electrically challenged in 2030 is a different question.
---
Oil ITJ Interview—Meyrick Williams SAIC
SAIC is 'virtual' prime contractor, system integrator, program manager, and service provider to three BP companies—Exploration, Oil, and Chemical—at ten major sites throughout the world. The $100 m/yr program involves 500 people. Oil IT Journal spoke to Meyrick Williams, SAIC VP and BP global account manager, about the history and scope of the alliance.
Oil ITJ—SAIC has been working with BP for a while—run us through the history of this partnership.
Williams—The relationship goes back 10 years, actually before my time with SAIC. The genesis was the upstream deal in Aberdeen which has developed into a long-standing and continuous relationship. In August 2000, SAIC won BP's Application Hosting and Outsourcing Program (AHOP), a competition to host the majority of BP's legacy systems, excluding upstream. A similar service delivery to the Aberdeen model is being offered in Houston. Today SAIC is heavily involved with BP's digital business initiative in three continents. The biggest footprint is in the USA where SAIC provides desktop and back office support to upstream and downstream. Similar support is provided in to BP units in Columbia and Venezuela. In the UK and elsewhere we supply back office support for the BP Common Operating Environment.
Oil ITJ—We reported recently (Oil ITJ Vol. 7 N° 1) on SAIC's acquisition of Oracle's Energy Division. How has this impacted your work with BP?
Williams—We acquired the Oracle Energy Division last year, including the support for BP's home grown ERP system 'ISP' which is used in some 27 countries. Our BP contracts also provide support for SAP in the USA while others leverage SAIC's
$ 1½ billion investment in leading edge research. These contribute to BP's technology effort through projects such as the e-field initiative—to 'drill smarter'.
Oil ITJ—What other applications are supported in these deals?
Williams—We also support applications like Maximo, Documentum, and E&P vertical tools. We maintain networks and communications for upstream and downstream primarily, but other BP businesses are represented.
Oil ITJ—Do you offer Application Service Provision—remotely hosted applications?
Williams—Yes, in the US, we provide ASP through a large server farm located in Tulsa. We also have the BP mainframe contract. Overall we support some 2,000 applications for BP, and we are helping BP develop new ones.
Oil ITJ—2,000! What happened to BP's portfolio rationalization?
Williams—You have to remember it's not just BP but Amoco, Vastar etc.. We are helping BP rationalize its software—working towards the goal of web-centric computing and leveraging public infrastructure. Legacy is legacy—it has either to go away or get turned into a solution.
Oil ITJ—How is SAIC going about proselytizing its success with BP, will we see you at the SPE or SEG?
Williams—Yes, we presented a joint paper with BP at the SEG D&P Forum recently on how we have implemented a true risk/reward business partnership model.
---
RSI attributes for SMT
Seismic Micro-Technology is to offer attribute analysis tools from Rock Solid Images.
Seismic Micro-Technology (SMT) has signed with Rock Solid Images to develop a new product based on RSI's attribute technology. The new tool, Rock Solid Attributes (RSA) will offer over forty different seismic attributes designed to 'extract the maximum amount of information from seismic data'. These will be integrated with 3D seismic data in SMT's present Kingdom Suite application.
Smith
Tom Smith, SMT president said, "Our clients have been asking about advanced attributes in two areas. They are looking for SMT to help them retrieve more detail about reservoirs from seismic data and they want better ways to identify potential reservoirs in large surveys. The addition of RSA to SMT's software is a major step in supporting their needs.
---
Digital rock library
Rock Solid Images and Palo Alto-based Permeability Inc. are collaborating to leverage technology developed in the Stanford Rock Physics Program. A 'Digital Rock Library' will help determine permeability from borehole data.
Houston-based Rock Solid Images and Permeability, Inc. announced today an agreement to develop and commercialize a new "Digital Rock Laboratory" (DRL) for determining permeability values from borehole data. The technology has been developed by Professor Amos Nur and his co-workers at the Stanford Rock Physics Laboratory (SRB).
Nur
Amos Nur said, "Our decision to partner with Rock Solid Images was a natural extension of our current successful relationship. The combination of cutting edge science from SRB, and the sound commercial skills of Rock Solid Images will ensure rapid and successful deployment of these remarkable new tools."
Walls
Joel Walls, VP and Chief Petrophysicist of Rock Solid Images added, "Permeability is the single most important property of interest to drilling and reservoir engineers. Until now, developing reservoir permeability models has been an expensive, slow and imprecise process. The DRL method holds outstanding promise for building robust, fine-grained permeability models for a variety of reservoir types." Permeability Inc. is based in Palo Alto California and develops model-based digital tools to simulate a variety of fine-scale sub-surface reservoir properties. More from rocksolidimages.
---
Plumtree underpins myHalliburton.com
In a recent webcast, Brandon Lackey, program manager of myHalliburton.com, described how Plumtree's Corporate Portal Solution was used to power Halliburton's client support system. Halliburton offers clients online access to mission-critical information and invoice workflows in a process of "benevolent entanglement" designed to secure Halliburton's client base. MyHalliburton has been a success with 2,000 users today, $53 million of sales and a world-wide completions contract with Shell International. Lackey's secret? Measurement and top-notch project management.
Brandon Lackey, myHalliburton program manager, categorized Halliburton's market as being influenced by "a small number of buyers who influence a large amount of expenditure," an estimated 4-5,000 highly technical users in the field of well and oilfield services. Halliburton's e-business strategy sets off the cost of its portal against the value and efficiencies it offers this target audience. This is achieved by enhancing the visibility of Halliburton's proprietary content through the portal. Halliburton benefits from a reduced cost of finding customer information—like technical documentation, field tickets and invoices, and the system facilitates incremental product and service sales to customers.
Pay up!
Invoices are a big issue for Halliburton whose customers appear reluctant to pay "within—or even outside of—terms"! Often this has been due to the poor visibility of the commercial data necessary to resolve disputes. Lackey explained that use of the portal, even if it only eliminates the time that invoices and payments are in the post, can bring processing time down from 34 days to 28 days. This represents annual savings to Halliburton of $1.95 million on interest payment alone. Lackey uses such quantifiable savings to justify the portal project.
'Benevolent entanglement'
Halliburton is also concerned to reduce customers switching to other suppliers—and to this end, practices what it charmingly calls "benevolent entanglement". In other words by making it so easy to do business with Halliburton that clients won't change suppliers for a marginal price advantage. The entanglement is achieved with a rich content—of case histories, project management and workflow tools and easy access to expertise—whether these are people or specialist communities. Private, secure communications are the key to good customer collaboration.
MSF
Building the portal was facilitated by the use of the Microsoft Solutions Framework, a three day training program in project management. This helped Lackey's team to sell the portal idea internally, and to map out project milestones for sign-off at critical phases in the project. For Lackey, "MSF is a valuable tool". Lackey put together a team of specialists in content, security, usability and testing and spent 2½ months planning.
$53 million
Today the portal has 2,000 users and has influenced over $53 million sales to date - representing around $ 12 million gross profit. All grist to Lackey's mill as he re-iterates, "always quantify the value". The portal houses some 3450 rich technical content documents and 66 private communities of practice (COP) with threaded discussions. Customers like, and are influenced by myHalliburton.com. Internally Halliburton uses the portal to access commercial information and to generate sales leads. Current portal development focuses on integrating with SAP, improving workflow for invoice payments and integrating data from Halliburton's InSight Anywhere real time feeds from drilling rigs.
Gadgets
Access to personalized content is through user-tailored 'gadgets'—employee, customer, workplace—which offer contextual drill-down and searching. All online content is in HTML and is delivered through Microsoft Active Server Pages. This protects the portal from Halliburton's "frequent re-branding"—cascading style sheets handle changing logos easier than Adobe PDF documents. Access to commercial data in SAP is achieved using Plumtree's SAP gadget internally. For external users, the Enterprise Application Integration (EAI) tool SeeBeyond is used to attach databases. Documents can incorporate interactive 3D imagery of tools—to show a customer just how a packer works—or to pull up a safety data sheet. For Lackey, "The interactivity of ASP wins out over the printabilty of PDF". Expert directories go against Halliburton's Exchange Server for contact information.
Buy-in
Lackey believes that executive buy-in was a key component of the project's success. The project was 'owned' by the business—and had IT support—not vice versa! An explicit link to corporate strategy was also a key element as is training. Lackey suggests that 'oldies,' who may not spend all their weekends on Yahoo should get special attention!
Third parties?
One unresolved issue is third party access to the portal. Clients would like other suppliers to be able to access portal information, to speed up workflows, but Halliburton is understandably reluctant to let some of its competitors in. Halliburton is trying to figure out a secure and simple way of supporting such collaboration. For Lackey, this is "a challenge for us in respect of some third parties! There is a lot of data to which we would rather not offer open access. We are trying to figure out how to deal with security simply".
Measure, measure, measure!
Lackey concluded his presentation by stressing the usefulness of MSF for managing the project and by reiterating his advocacy for metrics—"Measure, always measure!" More from myHalliburton and Plumtree.
~
We tried out the portal - there is an invitation to login which unceremoniously kicked us out as we weren't in the Halliburton customer database. Nothing wrong with that except the terms of (not) use are unclear and make for time wasting. Otherwise, you can see a flashy Flash ad for the portal—and call a phone number for more info. Not much benevolence or entanglement for potential new myHalliburton customers!
---
TEEC's new seismic process
German seismic specialist TEEC uses a new surface stacking technique to improve signal to noise in complex terrains.
Trappe Erdöl Erdgas Consultant (TEEC) is marketing a new seismic processing technique. 3D Common Reflection Surface Stacking (3D CRS) was originally developed by the Wave Inversion Technology consortium of Karlsruhe, Berlin and Hamburg (Germany) and Campinas (Brazil) universities. The software has subsequently been improved by TEEC to the extent that CRS can be applied to large 3D marine surveys and gives acceptable turnaround times on PC-based Linux clusters. CRS is a macromodel independent processing technique which uses arbitrary shaped stacking surfaces instead of the horizontal common mid point stack. Case studies show that the technique gives superior results in complex geological settings such as overthrust areas when compared to conventional DMO processing, or even in some cases to pre-stack depth migration. One of the first surveys to be processed using this technique is a 3D data set offshore Costa Rica provided by the BGR (German Federal Institute of Geosciences and Natural Resources). The aim of this project is to enhance the imaging of wedge shape structures associated with subduction processes.
---
Roxar rolls out Irap RMS 7
The latest version of Roxar's modeling software Irap RMS claims improved visualization, workflow and fault modeling.
Roxar Software Solutions has released a new version of its reservoir modeling software Irap RMS. Version 7.0 promises improved fault modeling, enhanced visualization, workflow management and comprehensive well planning in time or depth. Improved workflow management support will shorten cycle times, simplify model maintenance and data management, and 'unleash the value' of modeling efforts. The new visualization environment provides support for reservoir modeling through tailored 3D editors for all data types. Version 7.0 offers automation of the fault modeling process as well as 'intuitive, interactive editing at all stages of the modeling process'. According to Roxar, users can now build simple models with minimal input, and complex models with full user control. The new fault modeling promises 'significant time savings, while maintaining model integrity'.
---
Wellogix One to One
Wellogix' new software provides a direct link between oils and their suppliers. Wellogix CEO Jeff Liveasy argues against e-business exchanges for the delivery of complex products and services.
Wellogix has announced new e-business software. Wellogix One-to-One extends WorkFlowNavigator's features to relationships between oil companies and service providers. With One-to-One, oil companies can 'hardwire' private communications to each service provider for different aspects of their operations.
Livesay
Wellogix CEO Jeff Livesay explained, "One-to-One is a direct, private hotline between an oil company and a contractor—a dedicated telecommunications link that uses the Internet. Wellogix doesn't get between our customers, own any of their data, or invade their privacy—we merely provide the communications medium to bring them closer together. We believe that 'commoditizing' complex products and services, as others have advocated, is fundamentally flawed. Our solution does not involve multi-vendor bidding or auctioning, but continues to enhance productivity for oil companies and their service providers."
---
New PI/Dwights Plus CD
The latest release of IHS Energy Group's PI/Dwight's Plus CD ROM database promises ease of access and enhanced analysis.
IHS Energy Group has released version 1.5 of its PI/Dwights Plus CD claiming 'easier access to the most comprehensive historical well and production data on the market.' PI/Dwights Plus CD contains a comprehensive U.S. well and production database along with new tools to conduct quick and easy data analysis. The new release includes production summaries for field, operator and formation. Users can now export directly into Excel for further analysis and export to other applications. A new application WellBore Viewer Lite provides users with a graphical view of wellbore elements such as total depth, perforations, IP and core intervals.
Crockett
IHS Energy Group's Bill Crockett says, "We've enhanced the tools that allow clients to quickly locate, access and use the information they need. PI/Dwights Plus helps petroleum engineers estimate reserves, assists geologists with identifying new drill sites and facilitates property valuation." Well searches now include casing, liner and log information and other criteria.
---
MMS success
Online Ordering System is e-Government 'success'.
US Minerals Management Service director Johnnie Burton vaunted the merits of its online ordering system, launched a little over two months ago by the MMS Gulf of Mexico Region. "This is proving to be a success for the many users of well logs in the energy and geologic community. The response from customers has been very positive. In the first two months of operation, 180 CD's containing over 33,000 well log images were delivered." The online system offers secure credit card processing and can be used to purchase released well logs as TIFF images.
---
Oil ITJ Interview—Wayne Bartel, Aspen Technologies
Oil ITJournal talked to Wayne Bartel, Global Product Manager for petroleum supply, trading, and distribution with Aspen Technologies. Bartel gave Oil IT Journal a Webex demonstration of PetroVantage's decision support system for traders, logistics specialists and refiners.
Oil ITJ—What does Aspen do?
Bartel—Aspen Technology is an end-to-end downstream software vendor covering supply, trading and distribution of liquids including crude, intermediate feed stocks and finished product. Users of our software include traders and logistics workers in majors, national oil companies, and intermediaries. PetroVantage, our flagship product, helps all these people make the best decisions on hydrocarbon trading.
Oil ITJ—It sounds like securities trading on Wall Street?
Bartel—Yes and no. It is quite common to see traders and logistics people in the same room shouting a lot! But the reality is that trading physical commodities is a much more complex operation than securities or other 'dematerialized' trades. This is a very physical business involving transportation, many different players—terminal operators, networks of pipes and barges spread across the country if not the world. We trade in real liquids with many different characteristics—not a commoditized trade in 'Brent crude'. Each such grade of crude (of which there are hundreds) has a different value at different times and for different refineries. The trick is to match the right crude to the right market— something which has become very complex in last decade or so. Today there are well over 50 grades of gas in the US market alone—with different specifications for California, Chicago and Houston—which may change through the year. The US also imports up to 2 million barrels per day of product (not crude) which may have different foreign specifications and may need tweaking to suit local markets. So the decision to buy a European cargo of product may imply other decisions as to how it will be blended into a product for the US market. In the old days, all this was done over the phone—and by consulting a 3 inch thick book of specifications. Now pipeline tariffs and a host of other relevant data are online. All of which must be matched with the logistics of refinery requirements—they need to have room in the tanks when the product starts flowing!
Oil ITJ— The whole process sounds incredibly complicated—how do traders ever reach a decision?
Bartel—They are professionals with years of experience who know their markets. Of course, software helps. We offer linear programming tools to optimize the mix to market. Citgo for instance (see next page) configures cases which are run every morning to include overnight developments.
Oil ITJ—What does the software do?
Bartel—PetroVantage provides decision support and analysis. Databases show the conformance of a crude's specifications with different marketplaces. Logistics can be rolled into the computation, calculating the cost of shipping by different routes. With work process coordination traders can respond to opportunities and events—such as shipping delays, 'spurious' events and emergencies. The software helps companies reduce operating costs by reducing demurrage (standby) charges and minimizing operating risks.
Oil ITJ—Why did Citgo chose PetroVantage?
Bartel—Citgo, which is owned by PDVSA, is one of the larger integrated downstream traders and refinery operators. It moves 1 million bbl. per day around its 7 refineries. Early adopters were in Citgo's finished product trading team - the crude traders joined in later. Actually, this is the first enterprise-deal for PetroVantage, although we already have 11 corporate clients and around 100 licensed users.
Oil ITJ—How is your software deployed?
Bartel—PetroVantage is web-based and currently is hosted at our data center. This situation will likely evolve depending on client requirements. The software is delivered through 'role-based consoles'—one for the trading team, another for logistic support and one for third party refinery scheduling.
Oil ITJ— Are the trades concluded electronically?
Bartel—Actually no. Trades are still usually concluded over the phone. We also offer support for email and instant messaging from within PetroVantage. The software is primarily focused on decision support rather than e-business, and provides online news, weather and data feeds within the workflow tools. B2B may happen in the future.
Oil ITJ—It sounds as though you have a massive data entry and maintenance program going on in the background.
Bartel—Well, we leverage as much online data as we can—with feeds from Platts and Nymex—we also integrate with corporate spreadsheets of price forecasts and other enterprise data. Refinery and pipe data can be entered through our consoles and integration with SAP or other Aspen products is also possible.
Oil ITJ—How big a market is this? Is speed important?
Bartel—Let me put it this way, geologists do a great job of finding oil—but it is usually neither in the right place nor of the right composition! Generally around 2½ barrels of physical oil are traded to make one barrel of refined product as liquids are re-blended and tailored to the market in various swaps and deals. Companies will typically have a portfolio of contracts—perhaps 50% long term and 50% short term allowing for flexibility and reaction to markets and opportunities. Crude tends to be a longer term deal. But there is constant tweaking as dock strikes, storms and opportunities come along.
---
Under the PetroVantage hood
Aspen gave Oil IT Journal a peek into how PetroVantage leverages web-based distributed technologies to connect the many players involved in trading operations.
PetroVantage (PV) is a web-based solution that is either resident within a client's firewall or deployed through a centrally-hosted site. PV components communicate using XML interfaces. For inter machine communication, PV deploys secure HTTP (HTTPS). For in-process communications, Java Beans and regular function calls passing XML data arguments are deployed.
Architecture
PV system architecture consists of the following tiers—
1) Presentation layer—end user accesses PV using Microsoft Internet Explorer 5.5 or higher with 128-bit browser encryption.
2) Business Logic layer—IBM Web Sphere Application Servers host the Business Logic layer.
3) Persistence layer—PV supports SQL 2000 or Oracle RDBMS.
SAN
Current deployment uses a hosted Storage Area Network (SAN) from EMC. The Business-to-Business (B2B) layer leverages webMethods (or any message-based system such as TIBCO) to provide interoperability and data integration with third-party systems, such as SAP or legacy tools.
Java
PV has been completely developed in Java and is J2EE compliant. It is tested and commercially deployed on Windows 2000 server, but has not been tested on UNIX. PV supports IBM Websphere and BEA Weblogic. PV has been tested and commercially deployed on the IBM WebSphere 3.52 release.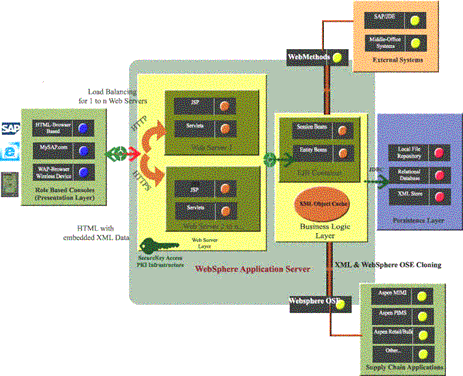 ---
Citgo signs corporate license for PetroVantage 2.0
PDVSA unit Citgo—a major US player in petroleum refining and marketing—has selected Aspen Technologies PetroVantage software for its trading operations.
PDVSA unit Citgo Petroleum Corp., a major U.S. petroleum refiner and marketer, has signed a multi-year, corporate-wide license for Aspen Technology's PetroVantage (PV) collaborative trading and logistics software. The agreement coincides with the release of Version 2.0 of the PetroVantage, a component of AspenTech's end-to-end supply chain solution for the petroleum industry. Citgo will deploy the software across its trading and logistics office in Tulsa, as well as in its refineries and product terminals, to increase profitability by improving decision making and coordinating its products, feedstocks, and crude oil trading and logistics operations.
Whitney
Citgo General Manager Herb Whitney said, "PV demonstrated value during our initial deployment within the products trading group. We will leverage PV on a corporate level to improve our ability to identify and evaluate opportunities, leverage more of our assets and markets, and respond more quickly to unplanned events."
PV 2.0
PV 2.0 allows traders to consider all of the implications of trading, transportation, and logistics decisions, and to coordinate and synchronize related activities (see our interview with Wayne Bartel in this issue). PV 2.0 provides the commercial team with tools that address the complex issues like work process coordination, data aggregation and management, and decision analysis.
Upstream
Aspen Technology acquired Calgary-based Hyprotech from AEA Technology earlier this year for $ 99 million cash. Hyprotech software helps companies model fluid flow in surface production facilities. Hyprotech launched a joint venture with Schlumberger unit Baker-Jardine last year (Oil IT Journal Vol. 6 N° 4) to integrate facilities modeling with the reservoir simulator. ARC Advisory Group recently estimated the market for such solutions at around $1 billion annually.
---
ARC GIS Geodatabase for Pipeline
Peter Veenstra of MJ Harden contributed this piece on the new GIS data model for pipelines. The model leverages ISAT and PODS data standards along with ESRI's latest Geodatabase technology.
The new ArcGIS Pipeline Data Model (AGPDM) uses ESRI's Geodatabase technology to manage transmission pipeline data. The model derives from the Gas Research Institute's ISAT model and borrows many aspects from the ISAT 2.0 and Pipeline Open Data System (PODS) 3.0 models. The AGPDM was presented to the Pipeline Special Interest User Group at the ESRI User Conference in San Diego last month. The AGPDM supports all facets of data management for transmission pipelines including routing and centerline information, facility and operations data, integrity and inspection information and links to an active land base including parcel fabrics and environmental data.
Route & Meaure
The model supports several methods of stationing—notably the native ESRI 'Route and Measure' system of linear referencing. The facility section stores information on on-line fittings and facilities. The facility feature dataset offers a geometric network for modeling product flow. Operations data includes right-of-way, pressure and other information required for regulatory compliance. The integrity and inspection portions of the model contain information describing in-line testing, close interval survey, cathodic-protection, and pipe inspection and remediation activities. The land base or 'geobase' contains information describing cultural, political, environmental, encroachments and other geographic features that the pipeline encounters.
Geodatabase
The AGPDM can be built into a Geodatabase, ESRI's object-relational construct for organizing and managing GIS data. The Geodatabase offers built-in network and attribute validation and referential integrity—with the introduction of full linear and polygonal topology with ArcGis version 8.3. The Geodatabase leverages ESRI's ArcGIS software for spatial analysis, cartographic display and query tools.
Consortium
The AGPDM was developed by an industry consortium with representatives from implementation vendors and pipeline companies. A ten member technical committee is responsible for the continued development of the model. The committee plans to present a finalized version of the model at the ESRI PUG meeting, scheduled for March, 2003.
UML
Data modeling was performed in UML with Visio Enterprise 2000 using ESRI's Geodatabase templates and the semantic checker macro to identify model inconsistencies. A Microsoft repository was built for use within ArcCatalog and the schema wizard was used to build the Geodatabase. The next AGPDM review is scheduled for October 17th following the Electric and Gas User Group meeting in Coeur d'Alene, Idaho and is open to anyone who wishes to participate in the design of the AGPDM. More from Peter Veenstra.
---
GUNK cleanses oilfield data
Oilcats has developed 'Gunk' - a software tool to clean up asset data used in asset management and e-commerce.
Aberdeenshire-based Oilcats is rolling out new software to clean up oil and gas materials data. Gunk facilitates cataloguing of oil-country materials and was designed to enhance Oilcats' data collection and standardization service. Gunk works by creating data templates that enable end-users to source products, materials and services quickly and efficiently.
Content
GUNK's customizable data dictionary holds over 7,500 descriptor nouns and 500,000 products which are used to provide context-sensitive help. If an offshore worker is looking for a spanner, they input spanner and up pop eighteen types of spanner.
Andrews
Oilcats MD Dave Andrews said, "We take existing data, put it into a standardized format and input it electronically on templates. This will ultimately facilitate e-commerce within our industry where the bulk of procurement transactions will benefit from electronic processing." Gunk comprises a central dictionary of templates for product descriptions, a materials data catalogue and tools for searching, QA and administration.
Not cost saving!
Andrews told Oil IT Journal, "Forget about cost reduction - that's rubbish! What companies want is the efficiency given by end user visibility of all their plant, inventory and spares data. This alone can increase plant efficiency by up to 5% and increase cash flow from assets by an amount equivalent to a new discovery." BP believe him and is using Gunk to transition its inventory data to Maximo. Oilcats is considering giving Gunk away free as part of its service to clients.
---
MRO and IBM team
A joint marketing agreement between IBM and MRO Software means that Maximo will be bundled with IBM's WebSphere.
MRO Software and IBM are to cooperate on e-business solutions for asset management. The deal will initially target energy companies and covers MRO's asset management solution Maximo, IBM's WebSphere, DB2 and IBM hardware. MRO will bundle WebSphere with Maximo while IBM will provide consulting and integration services.
BP
BP selected MRO Software as the group preferred partner for maintenance management systems and now deploys Maximo world-wide. Other Maximo clients include ADNOC, ExxonMobil, ChevronTexaco, Hess and PDVSA.
---
Landmark's SeisSpace
Landmark is delivering its new seismic processing platform SeisSpace. The new environment is tuned for parallel processing.
Halliburton unit Landmark Graphics has announced the release of SeisSpace, its new seismic processing platform for distributed computing. SeisSpace optimizes parallel processing performance on Linux clusters by providing highly scalable trace processing efficiency for large seismic volumes. Included in this product release is a new prestack time migration algorithm optimized for parallel processing.
Lane
Landmark president Andy Lane said, "E&P companies are continuously being challenged to improve their finding efficiency in the face of more complex reservoir targets. Landmark continues to focus on driving innovation in seismic processing to discover and delineate hydrocarbon prospects faster and at lower costs."
ProMax
Landmark customers currently using ProMAX should notice improved data throughput from hybrid ProMAX flows within the SeisSpace parallel input/output environment. A new user-interface provides access to multiple project data stores and multiple processing servers.
Sherman
Landmark executive VP John Sherman added "SeisSpace was designed to leverage emerging technologies and efficiently process large seismic volumes. Our customers can achieve supercomputer processing performance at the favorable price/performance ratio offered by Linux clusters."
---
Free vulnerability test
NeoNET has announced a new vulnerability testing service for your firewall and is offering a free check-up penetration test.
Systems Integrator NeoNET, Inc. has rolled out a new service—NeoNET Security Suite. Neonet's new IT security analysis services are offered both on-site and 'over the wire.' NeoNET will provide customers with Managed Security Services and offers a comprehensive tool set for Firewall and Router monitoring, URL filtering and immediate security threat notification. With the latest services, GeoNet describes itself as a 'Secure Integrator', offering secure integration services enterprise-wide.
Whitney
NeoNET president Jeff Whitney said, "NeoNET's Suite of Services allows NeoNET to provide clients with Vulnerability Testing, Penetration Testing and Enterprise Wide Security Solutions. In utilizing NeoNET's Security Services, clients will be locked down to prevent hackers and internal threats from disrupting IT services".
Yes or No!
NeoNET is offering free 'Over-the-Wire' vulnerability testing to businesses this month. Sign a form of consent and NeoNET security experts will examine your IP addresses to assess your vulnerability to outside attacks from hackers. A simple "Yes, you're secure" or "No, you're vulnerable to attack" response will be e-mailed to the client free of charge. An in-depth security report is available at a cost.
Oil & gas
NeoNET provides integration and engineering support to clients in the Oil & Gas, Medical and Small & Midsize Business (SMB) Markets. The company's primary focus is on excellence in engineering, with capabilities in supporting and integrating LAN's, WAN's, Firewalls, VPN, Security, Applications, O/S and SCADA. Clients utilize NeoNET's services for everything from IT projects to complete outsourcing of IT support. NeoNET, Inc. is headquartered in Boulder, Colorado, with offices in Houston, Texas. More from neonetglobal.
---
PetroData cleans up for Norsk Hydro
Norsk Hydro has selected PetroData to clean up data from 470 Norwegian wells prior to loading to PetroBank.
PetroData has signed a contract for a major well log data quality project for Norsk Hydro ASA. Data from 470 wells will be quality controlled and reported into Diskos PetroBank, the Norwegian national data repository, according to reporting requirements specified by the Norwegian Petroleum Directorate.
PGS
PetroData will carry out the project along with long-term partners PGS Reservoir Consultants AS and Robertson Research.

Notodden
Original log tapes, films and reports will be retrieved from Hydro's tape store run by GeoTjenester AS in Notodden. All well log data will be quality controlled and loaded into PetroBank. The raw log data will reside as archive objects in PetroBank whereas selected log curves will be loaded live in the PetroBank Well Data Module. The original tapes will be destroyed upon completion of the project.
Johnsen
Hydro project manager Jan Reidar Johnsen said, "Completing the NPD reporting is a high priority project for Hydro. We have set very aggressive milestones for the reporting and have selected PetroData for the job, confident that they have the competence, capacity and technology required to complete the project."
Hanesand
PetroData MD Trond Hanesand added, "Norsk Hydro is PetroData's largest customer. This project extends a long list of service deliveries from PetroData to Hydro, and is an important contribution towards populating the well data module of Diskos PetroBank."
---
Magic Earth ports 'Probe to PC
Magic Earth has ported its seismic visualization software GeoProbe to Linux and is rebranding its high-end products.
Halliburton unit Magic Earth has just released MagicDesk, a PC-version of its high-end volume visualization and interpretation software, GeoProbe. MagicDesk is not a Windows port however, the software runs on Linux. Magic Earth positions the desktop version of GeoProbe as suitable for 'detailed analysis on reservoir-scale data.' Magic Earth has now also re-branded its high-end systems as MagicStation (for Unix Workstations) and MagicVision (for high-end visualization centers). MagicDesk claims compatibility with Landmark's R2003 Linux release.
Zeitlin
Magic Earth president Mike Zeitlin said, "MagicDesk drives down the cost of ownership without compromising on the performance required for new E&P workflows. Magic Earth now has a solution for every scale of the interpretation process, from team collaboration and decision-making in the immersive visualization center to the desktop."
GeoProbe
All the GeoProbe interpretation tools, including custom picking, volume rendering, multi-attribute analysis, ezFault/ezSurface, are available in the new release. PC Performance is said to be 'consistent' with the larger systems 'with the exception of PC memory limitations on the amount of geovolume data that can be interpreted at one time'.
IBM
MagicDesk will be packaged as a dual-monitor IBM IntelliStation M Pro with key graphic upgrades and will run the Red Hat Linux operating system.
---
ESRI GIS for IndigoPool
Shlumberger's e-business portal IndigoPool has deployed ESRI's ArcIMS. The GIS technology is available for other Schlumberger applications.
Schlumberger Information Solutions (SIS) and ESRI have teamed on an e-business implementation of ESRI's GIS. The software is deployed on Schlumberger unit IndigoPool's acquisition and divestiture (A&D) online marketplace.
ArcIMS
The implementation combines the mapping capabilities of ESRI's Internet map server software (ArcIMS) with ESRI's spatial database engine (ArcSDE) running on an Oracle database. IndigoPool clients can now access data including cultural, land grid, well, production, seismic, lease and gravity/magnetic surveys. Users can move between high-quality map-based data selections, non-GIS e-business asset catalogs and E&P data rooms. Assets can be identified and investigated, to provide visual support for A&D decision making.
Walker
IndigoPool president Jeremy Walker said, "We are confident that the certified support of ESRI will add strength, attract significant interest and further streamline the A&D process for our clients."
Wade
ESRI industry director Geoff Wade added, "We are extremely pleased to further our integration relationship with SIS. With the sophisticated IndigoPool Web interface and easy online access, together we're taking the A&D marketplace to the next level."
Any SIS app!
The IndigoPool implementation is a major step for the relationship between SIS and ESRI. The GIS implementation is said to be applicable to any SIS offering that has a Web-based geographic interface to geoscience applications.
---
Paradigm on Linux
Paradigm is to offer its geoscience software, including GeoDepth, Focus and Probe on Linux.
Paradigm Geophysical has announced the release of its seismic data processing and imaging solutions on Linux workstations and clusters. Paradigm reports that its products are proving well-suited to Linux. Cost-effectiveness of the new port has been proven during extensive use by Paradigm's Services Group. Workflows can be run in a hybrid environment, with data shared between Unix and Linux platforms.
Weiss
Paradigm CEO Eldad Weiss said, "Paradigm is committed to reducing the total cost of ownership for our solutions. The Linux operating system, which provides UNIX capabilities on a PC, offers a wonderful opportunity to deliver on that commitment. Linux has become a mature platform which is particularly suited to compute-intensive applications. There is no doubt that the industry is heading towards mass adoption of this platform, and we're proud to be at the forefront of this movement."
GeoDepth
Paradigm's Linux-based seismic data processing and imaging products include the GeoDepth velocity model building and depth imaging system, the Focus seismic processing system, and Probe for AVO inversion, analysis and modeling. The company's industry-leading migration technology is now being offered in a distributed computing environment (Linux clusters). Additional products available on Linux are the Vanguard reservoir property propagation system and Explorer for time to depth conversion.
SEG
The company's Visualization, Interpretation and Earth Modeling products on LINUX will be demonstrated at the SEG2002 International Exposition and 72nd Annual Meeting in Salt Lake City on 6 -11 October, and commercially released soon afterwards.
---
Folks, facts etc.
This months movers hail from Core Lab, Rileys, Petroleum Place, TGS-NOPEC, POSC and PGS.
Core
ADS president Rade Drecun is moving to Core Laboratories following the acquisition as are Bee Bednar, VP R&D and Chuck Peng, Director of Technology Development
~
Riley
Karl Eberhart has joined Riley Electric Log as Vice President to promote Riley in the USA.
~
Petroleum Place
Steve Pruett has been named president of Petroleum Place. Pruett was previously president & CEO of First Permian.
~
TGS-NOPEC
TGS-NOPEC has appointed David Hicks Chief Technology Officer. Hicks was previously with GeoGraphix.
~
POSC
Herb Yuan (Shell) and Jennifer Freshwater (BP) have joined the Petroleum Open Software Corp.'s board.
~
PGS
PGS is to consolidate its corporate functions into a new center in London. In a separate announcement, Umoe AS CEO Jens Ulltveit-Moe is making a bid for the post of chairman of PGS following Reidar Michaelsen's announcement that he is to step down. Umoe holds over 10% of PGS' stock.
---
HueSpace brings game technology to upstream
VoxelVision has acquired the rights to market high performance visualization technology from Hue.
The traditional way of visualizing gigabytes of data is to use gigabytes of memory and expensive, high-end graphics hardware. But is this really necessary? The folks at Norwegian software house Hue don't think so. Hue's developers cut their programming teeth working on a computer game, 'Joint Strike Fighter' (Eidos/Innerloop) and have leveraged the fast polygon rendering used in computer gaming to voxel visualization with its HueSpace product.
VoxelVision
VoxelVision has signed an exclusive agreement with Hue to offer this technology to the oil and gas industry. HueSpace will be offered as a plug-in to VoxelVision's Linux cluster software GigaViz.
Buch
Hue CEO Diderich Buch told Oil IT Journal, "Our developers have turned the voxel visualization problem on its head by focusing—not on the vast data volumes to be rendered—but on the relatively modest amounts of information that reach the screen. We are looking into a patent application for this technology and don't want to say any more about it right now."
SEG
HueSpace technology will be an integral part of GIGAviz 2.0 to be launched at SEG 6 October 2002. If the spectacular online demo of HueSpace on www.hue.no is anything to go by, the booth should be worth a visit.
---
ECL acquires AEA Technology
AEA Technology has bowed out of the oil business—selling the rump of its consulting unit to Exploration Consultants.
Exploration Consultants Ltd. (ECL) continues its expansion with the acquisition of the assets and ongoing business of the Subsurface Engineering Business Unit of AEA Technology plc (AEAT). The acquisition expands ECL's services in reservoir engineering, simulation, production optimization, decision risk management, IOR screening and SCAL laboratory services.
Going concern
ECL will retain the acquired business as a going concern (trading as ECL Technology Ltd.), and will expand its services and technology in the UK market, particularly from the Aberdeen office, and through ECL's established overseas offices.
Privatization
AEAT was created in 1996 by the privatization of parts of the UK Atomic Energy Authority. The divestment of the Subsurface Engineering Business Unit is the latest step in AEAT's post-privatisation strategy to focus on its core business areas.
Hyprotech
Earlier this year, AEAT sold its Calgary-based unit Hyprotec to Aspen Technology (see page 7). AEAT has now effectively turned its back on the oil and gas software and service market.
---
SAIC expands BP outsourcing
BP has renewed a $750 million outsourcing deal with SAIC—named top private IT company by Business Week for 2002.
Science Applications International Corporation (SAIC) has extended its portfolio of contracts with BP valued at more than $750 million. Under the revised agreement, SAIC will provide BP with a range of IT services through 2006.
Services
The SAIC-provided services include infrastructure, datacenter and application support. The new agreement extends a long-term relationship between SAIC and BP, and a mutual commitment to achieve the best possible results.
Cross
BP's CIO John Cross was behind the first SAIC contract with BP back in 1992 when it was looking to outsource its IT operations. Since then, Cross believes, "The services market has grown quite a bit, but I wouldn't say that it has matured that much. Companies that claim to be global providers are not that. If anything they are multinational. When you try to work with them you find that they may have a global presence of infrastructure but that management processes are still localized. The regional managers slow up their performance across the geographies."
Risk-reward
BP's relationship with SAIC is built around a risk/reward model. SAIC develops and supports BP Exploration's (BPX) data processing and telecommunications centers around the world—with around 60,000 users. BPX estimates this saved over 30 percent in opcosts in the first year, and over 20 percent in the second year.
Business Week
SAIC was recently named top private information technology company for 2002 by Business Week.
---
EnCana to deploy TIBCO
Calgary-based EnCana has selected TIBCO's enterprise application integration solution—a first for the upstream.
EnCana Corp has selected TIBCO's enterprise application integration platform (EAI) to support its upstream exploration and production business. This marks the first time TIBCO's enterprise integration solution will be used in the oil and gas exploration and production industry.
E-business
The TIBCO hub is an end-to-end ebusiness infrastructure that integrates back-end systems and includes customers, suppliers and business partners as well as staff. This solution has the potential to provide increased efficiencies and significant cost savings.
White
TIBCO VP Rene White said, "The implementation of TIBCO's business integration solutions enables EnCana to concentrate on its core competencies while simultaneously benefiting from more efficient and effective business processes. TIBCO's work with EnCana demonstrates our continued commitment to the energy industry and its goal to bring the benefits of deep integration to all aspects of business."
1 billion barrels
EnCana is described as North America's largest independent oil and gas company. The company hit the headlines earlier this year with a potential billion barrel North Sea discovery. Not bad for a mature province—and for acreage relinquished by a major!
---
Oildex wins Oxy and allies with Enertia
Occidental Petroleum is to replace its legacy EDI system with Oildex's joint interest billing software—JIB Connect. Oildex is also working with Enertia Software to leverage JIB Connect in Enertia's enterprise asset management suite.
Occidental (Oxy) has selected Oildex's JIB Connect (JIBC) to exchange electronic invoices with its joint venture partners. JIBC, which will replace Oxy's existing EDI process, is an extension of Oildex Connect, currently used by over 400 public and private oil and gas companies.
Redman
Harry Redman, Oxy's Manager of Accounting Applications said, "Oildex has provided a flexible tool to allow a broader group of companies to exchange JIB data electronically. Oxy anticipates doubling the volume of electronic JIB transactions by utilizing the JIB Connect service."
Flanagan
Peter Flanagan, CEO of Oildex said, "Oxy is one of ten companies that have used a private electronic data interchange (EDI) to exchange joint venture billing information. JIBC will allow Oxy to continue to interact with the EDI community, and to expand the exchange, trading JIB data with partners who use JIBC's Internet facilities.
EDI 819
JIBC data formats range from simple uploadable spreadsheets to the API-approved EDI 819 specification. In a separate announcement, Oildex and Enertia Software are to integrate the JIBC billing standard with Enertia's asset management software.
Schmidt
Enertia president Kevin Schmidt said, "We are long-time advocates of electronic data exchange, currently providing the exchange of revenue and production information through Oildex (CDEX, CODE and GRADE). We embrace JIB Connect's web technology and see great value in offering time and money saving solutions to our clients."